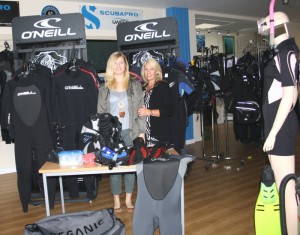 Uni-Guard Fire Protection has sponsored a Portsmouth University graduate who had three hundred pounds worth of camping equipment and dive medical supplies stolen which she had bought for her new self-funded job in Madagascar.
Marine Biology Graduate Kira Coley, 26, spent hundreds of pounds on specialised equipment such as treated mosquito nets, research books and dive medical supplies for her self-funded post in Madagascar as an Assistant Marine Research Officer.
While she was moving out of her flat in St Andrews Road, Southsea on the 8th September in preparation for the trip, her rucksack containing all of her equipment for Madagascar went missing. As there were no suspects or CCTV footage, the police were unable to take further action except inform Kira if the equipment turned up. It left in jeopardy her new job, career and everything she had been working towards.
Friends and family rallied round to lend and buy replacement equipment. However, Kira was still unable to afford her diving equipment as she had to re-buy most of the kit that was stolen, as well as additional equipment and fund training courses.
During her time studying, Kira had previously been an administrative employee for Uni-Guard Fire Protection. When Uni-Guard heard she was unable to go to Madagascar they instantly knew they had to help.
Uni-Guard Fire Protection Director Carol Wilcox said: 'Kira has studied and worked so hard to get her dream job. She is a bright, intelligent and hard working girl and for some mindless opportunist to take everything away from her was tragic. We all knew how much she wanted to work in marine conservation and were so happy when she got the job for Frontier's Madagascan Marine Conservation Project. When she said she could no longer go it was heartbreaking. The decision for Uni-Guard to sponsor her £900.00 so she could buy her diving equipment was easy. We are very excited to see what her new adventure brings and the next chapter of her life.'
Kira also received help from Trident Scuba in Highland Road, Portsmouth who heavily discounted her equipment and diving training courses.
The job will involve setting up and monitoring marine protected areas around the Madagascan coast. She will be interacting with local fishing communities, training volunteers and working within tropical marine ecosystems which are unique to that part of the world. Kira has studied and worked towards this for 5 years.
Kira flies to Madagascar on Sunday to spend six months camping on the island beach of Nosy Be with no electricity or luxuries and said: 'I'm so excited about starting my new job especially as I thought I would never get to go. I am so grateful to Uni-Guard, Trident Scuba and all my friends and family who have been so kind in helping me achieve what I have dreamt for so long. I can't believe it is actually happening.'